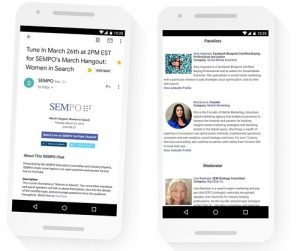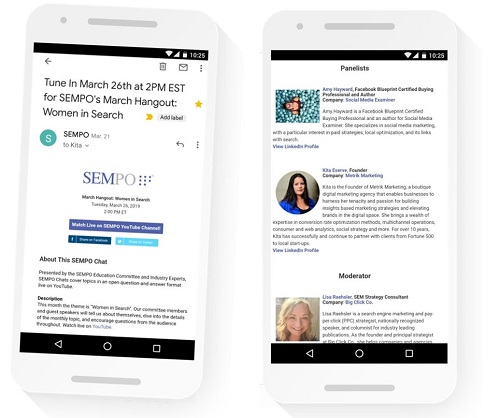 This past March, our founder, and CEO, Kita Eserve, took part in a SEMPO live stream panel featuring Women in Search. There are "100+ awesome women marketers you should follow" and our March SEMPO Hangout has featured a few more to add to the list.
The idea for the March SEMPO Hangout was inspired by an article posted in a Search Engine Journal that featured one of SEMPO's own, Lisa Raehsler. Lisa is an SEM strategy consultant who is the founder of Big Click Co. Lisa is a search engine marketing and pay-per-click (PPC) strategist, nationally recognized speaker, and columnist for industry-leading publications. She is currently working on ramping up marketing for SEMPO @sempoglobal professional organization. Lisa is also the host and moderator of the Q&A session for the March SEMPO Hangout on the topic of Women in Search.
Taking a deep dive into the Search Engine Marketing industry, these panelists each shared their journey into the world of Search and offer a unique perspective on where the industry lies today. Below is a brief  bio for each of the panelist and why it's cool to bring this panelist together:
Amy Hayward, Facebook Blueprint Certified Buying Professional and Author
Company: Social Media Examiner
Amy Hayward is a Facebook Blueprint Certified Buying Professional and an author for Social Media Examiner. She specializes in social media marketing, with a particular interest in paid strategies, local optimization, and its links with search.
—
Kita Eserve, Founder & CEO
Company: Metrik Marketing
Kita is the Founder of Metrik Marketing, a boutique digital marketing agency that enables businesses to harness her tenacity and passion for building insights-based marketing strategies and elevating brands in the digital space. She brings a wealth of expertise in conversion rate optimization methods, multichannel operations, consumer and web analytics, social strategy, and more. For over 10 years, Kita has successfully continued to partner with clients from Fortune 500 to local start-ups.
—
Tanya Wigmore, Founder
Company: CRO:NYX Digital
Tanya Wigmore is a seasoned search marketing strategist with over 15 years of digital marketing experience with start-ups, mid-market and enterprise clients, with a focus on technical SEO and conversion rate optimisation (CRO). When she's not growing agencies, mentoring up-and-coming search marketers, or running point on client strategy, you can find her on the beach in the Cayman Islands where she resides with her family.
Didn't catch the live event? Don't worry, we've got you covered! View the entire live stream here and learn from Kita and her fellow panelists as they reflect on their many years of industry experience. For more information on the Search Engine Marketing Professional Organization visit their website at www.sempo.org/ #SEMPOChat