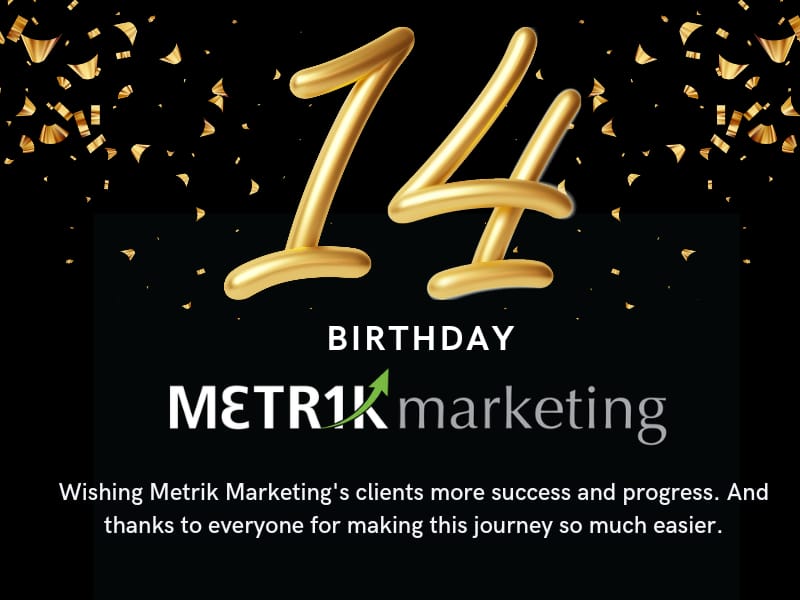 Birthdays and anniversaries have a way of making one feel all reflective and nostalgic. As Metrik Marketing rings in 14 years of online marketing success and growth this year, we thought it would be fun to take a look back at the space in which we live and work circa 2008 vs now.
Buckle up, it's a rather mind-blowing look back!
Being the Google geeks that we are, we turned to Google for our little trip down memory lane by taking a look back at the top Google searches for 2008:
Top cocktail search was Martini
Top concert search was Jonas Brothers
Top death search was Heath Ledger
Top How To… search was How To Draw
Top movie trailer search was Dark Knight
Top TV Show search was American Idol
Top What Is… search was What Is Love\
Top DIY search was DIY Wedding
Top comfort food search was Ice Cream
Top lyrics search was With You
Top NFL teams search was New York Giants
Top political news source search was Fox
Top Who Is… search was Who Is Obama
And then, fast forward to 2022, and here is what the top Google searches were last year:
Top search was Australia vs India
Top news search was Afghanistan
Top actor search was Alec Baldwin
Top death search (now referred to as passings) was DMX
Top athlete search was Christian Eriksen
Top movie search was Eternals
Top TV Show search was Squid Game
Top food search was Birria Tacos
Top song search was drivers license by Olivia Rodrigo
The top technological innovations of 2008 included Apple's App Store, which helped to jumpstart the mobile app development market, and iPhone 3G. Search engine optimization (SEO) was in its early days as an internet marketing strategy and, given that the first iPhone had only hit the market on June 29, 2007, mobile-friendliness wasn't a big focus yet. Present day SEO goes beyond keywords and prioritizes useful and intelligent content. And given that experts predict that by next year, mobile usage will account for 35% of all media time for the average person, mobile functionality is a huge focus for marketers these days.
And of course, the biggest reflection after 14 years in the business of digital strategy? Just how grateful we are for the people and businesses who we've been privileged to work with in the past decade and a half. It truly is thanks to the ongoing support of our loyal customers, the hard work and generous creativity of our team members, and the innovation and opportunities provided by our business partners, that we've been able to make it to 14 years. We'd love to keep the momentum going, so if you have a minute, we'd love to request a quick Google Review – as much as we live and breathe the power of a strong and robust online presence, we also appreciate how impactful a word of mouth referral can be.
Cheers to the next 14 years!