Why Transition Online?
Having an online presence is an important way for small businesses to connect with their current customers and also market their goods and services to a wider audience. With a website, customers and potential customers can easily and conveniently learn more about a business, view products and services available for purchase, all from the comfort of their own home.
It is common knowledge that many people spend a significant amount of time online, so using the internet to advertise a business is also important. This way, businesses can more effectively target new customers, and also keep their current customer base informed of new products or sales promotions.
In times like this, having an online presence is more important than ever. To prevent the spread of COVID-19 and practice safe social distancing, many businesses have had to close, cutting off their main way to reach customers and sell their products. However, by transitioning to an online platform, small businesses can continue their work by providing a safe and efficient way for customers to access their goods and services so they don't have to leave their homes.
As guidelines and restrictions are changing daily in response to this pandemic, an online presence is a good way for businesses to also keep customers appraised of the latest news and any changes like temporary changes to operating hours and closures. There are many benefits to transitioning a business online, and it doesn't have to be an expensive or difficult process. Below, we explore how business owners can navigate this difficult time and strengthen their business for the future.
First Things First: Have a Strong Website
Creating a website doesn't have to be complicated. Through tools like Google My Business, and lower cost platforms like WordPress, Squarespace and Wix, business owners don't have to spend a lot of time or money in creating a website that is easy for their customers to use. Most of these platforms come with customizable website templates that are simple for business owners to update for their needs, while still looking professional, modern and appealing.
It's important to remember that the website is for your customers. When designing the website, consider the points below and make sure that the website is accessible, easy to navigate (especially for important information like contact forms and hours of operation) and clean. Too much text and graphics can be overwhelming for visitors and has the potential to drive customers away from a website.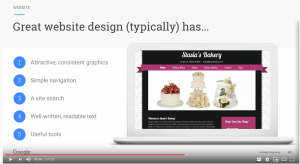 1 01 0 Screenshot of Connect with local customers (Partners Connect, 6/14) presented by Google Partners, June 14, 2017
Promoting Your Business Online with Google
Google My Business (GMB) is a free tool available for all businesses. This tool can be used to promote a business online through organic rankings. Through this tool business owners can do everything from update their hours of operation (a common piece of information customers search for), leverage their posts and list their promotions, and ensure their customers have access to the information they need on the company. Based on best practices, Metrik Marketing recommends that business owners update their GMB posts at least every two weeks to ensure their content remains new, engaging and relevant. Interested in learning more about how you can take advantage of GMB? Learn more here.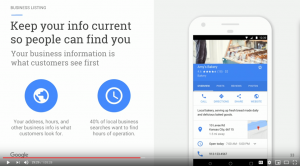 1 0 Screenshot of Connect with local customers (Partners Connect, 6/14) presented by Google Partners, June 14, 2017
Using Visual Media Online to Attract Customers
Another effective way to promote your business online is through display ads. Whether it is on an external website or social media platform, a display ad not only puts your business directly in front of potential customers, but it makes it easy for these potential customers to become actual customers. Display ads online give people the opportunity to click on the ad and go directly to your online website and social media pages so they can learn more about the business and view the products.
Display ads can be made up of texts, images or videos and are easy for business owners to create on their own. Canva provides free templates that people can customize to fit their unique branding and promotional campaigns.
Video Ads: An Effective Online Marketing Method
Video ads can be a bit more involved – but instead of making a lengthy ad, create a quick and engaging bumper ad that is only six seconds long. The attention span for many customers is very limited, and customers and more likely to get bored and stop watching longer videos. However, with a six-second ad, business owners can capture a customer's full attention effectively. This may not sound like a lot of time, but by focusing on one key message and keeping the visuals simple, this can be a strong promotional strategy.
This doesn't mean that all longer ads are bad – some marketers recommend combining the two strategies for maximum effect. For example, you can promote a longer form ad with a target audience and then instead of showing them the same ad, move to a shorter one to still keep them engaged and informed.
Tools like Tech Crunch can help make sure that video content business owners may have (especially if it is longer) can be converted to the right time and format for the ad. Animoto is also an easy way to create video ads, especially for people that may not have a lot of experience in creating digital ads. The tool also has a variety of templates people can use as a starting point for their ad.
However, in order to have an effective online marketing campaign, business owners need to develop and follow a marketing plan. It isn't enough to just decide to start doing display and video ads – business owners should consider what they are trying to promote to customers and what they want to achieve. The online marketing strategy can have a variety of purposes, from bringing awareness to a business or product and encourage people to make a purchase.
Connect with us if you need any support on how to get your business online or explore more resources on our website