Metrik Marketing is getting a makeover! Today, we're launching a new logo to highlight our history, quality work, passion for analytics, and dedication to seeing our clients' results grow.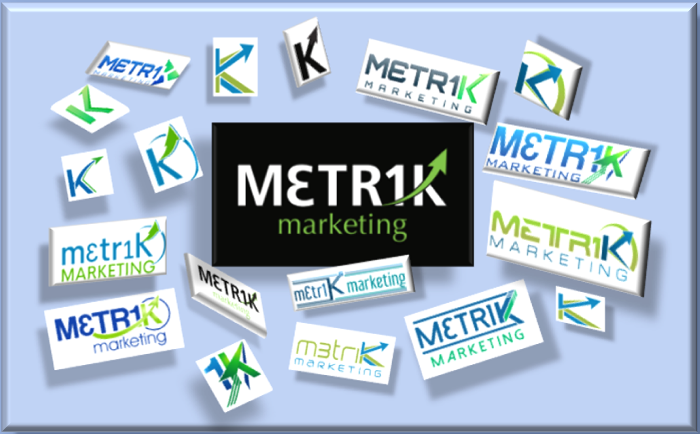 1 Metrik's new logo is front and centre, with greater emphasis on the "K" in our name and the addition of the upwards arrow.
To celebrate the launch, Metrik Marketing's founder, Kita, explains the inspiration behind the new design and how her experience in the industry has influenced the work Metrik does today.
Q: Why change the Metrik Marketing logo?
A: We pride ourselves in delivering quality work and get lots of work through word of mouth. Over the last few years we have had the occasional issue with potential clients misspelling our name and contacting the wrong company. In one of those incidents, the other company went as far as claiming to have Kita working there and quoted the client on the job. Fortunately, the client realized the mistake and had us also bid on the project. We landed the project but were left wondering how could we prevent this from happening again? Were there other projects we lost without knowing about it?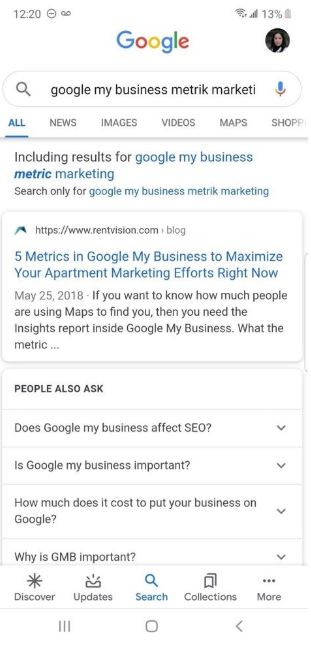 2 One wrong letter can drastically change what potential clients find when they Google Metrik with the wrong spelling.
Q: What was the inspiration behind the design of the new logo and how does it relate to your work?
A: The "k" in Metrik's name represents my own name, Kita. We wanted to acknowledge that history and also emphasize the spelling to prevent any future mix-ups or spelling mistakes. The upwards trending arrow was added because we are very passionate about analytics and typically watch our clients' results grow. Many of our client's goals & KPIs follow the upwards growth trend in Google Analytics, so this logo better reflects that.
Q: What is the significance of launching on August 8?
A: Metrik Marketing officially started on August 8, 2018 – we thought there was no better day than our birthday to launch our brand new logo! 
Q: There's another day that holds special significance at Metrik Marketing. What is so special about St. Patrick's Day?
A: I was hired onto my first digital marketing role at an agency on St Patrick's Day just over 15 years ago, and we felt it was a memorable day to do our re-brand. Our original rebranding was planned for March 17th, 2020 however with the pandemic, we felt it was important to be flexible and adjust our rebrand date to August. Our journey has taught us that sometimes things don't always go as planned, and in the bigger picture, this adjustment may end up being for the best. 
Q: How did you get started in digital marketing?
A: I was hired by a full-service marketing firm on the spot on March 17, 2005. My first title was a Marketing Research Coordinator and I was tasked to help build pay-per-click campaigns and provide reporting using an in-house web analytics tool built by our data genius Drew Gillson. At that time, we had to build tracking URLs for every single ad and had to use SQL for all our reporting results. Eventually Web Analytics became accessible thanks to Google. I remember the day Google announced they bought Urchin and were going to make Analytics free – the dollar value was in the thousands in annual memberships. 
It was through this position that Kita won her first award in SEO and Analytics from the Web Marketing Association in 2006 for Outstanding Achievement in Web Development.
Q: What changes have you noticed in the industry since you first started? 
A: Over the last 15 years there have been so many changes. We saw Google Search grow from a basic pay-per-click advertising platform into a sophisticated machine that uses advanced features and bidding strategies to help get in front of a client's targeted audience. When I first started, we also used a platform called Overture where we ran Yahoo PPC ads. At this time, advertising was only available for search results. It then expanded into display, followed by video ads. Now ads can also show up in Gmail and even smart TVs
To further demonstrate just how much the industry has changed, here's a list of the top global search engines in 2005:
Google: 36.8%
Yahoo!: 26.6%
MSN: 14.5%
AOL: 12.5%
Excite: 4.3%
AskJeeves: 1.8%
Infospace: 1.3%
Lycos: 0.8%
I'm sure some people don't even remember some of these search engines. Since then the numbers have changed significantly. Currently, the top search engines in 2020 are:
Google: 92.54%
Bing: 2.44%
Yahoo!: 1.64%
Baidu: 1.08%
Yandex: 0.54%
DuckDuckGo: 0.45%
Sogou: 0.44%
Ecosia: 0.14%
3 A snapshot of what Google used to look like in 2005. You can find a visual history of Google's previous looks here: https://www.bustle.com/articles/105042-what-did-google-used-to-look-like-a-visual-history-of-everyones-favorite-search-engine 
Q: A lot of your work revolves around using keywords. What was your first keyword purchase? Why this one?
A: The first campaigns I worked on were focused on increasing attention for Travel Alberta by out of province tourists planning to travel around Alberta. We had six landing pages focused on different popular activities offered throughout the province. I started my quest focusing on fishing tourism terms. Driving content specific searches to these (now dormant) landing pages:
Q: How have keywords evolved?
A: When I first started, I had thought that we were building pay-per-clip terms, likely because Microsoft used their paperclip help icon for office tools. It took me about a month to realize that pay-per-click is actually the bidding method to attract potential customers. 
We've seen so many changes over the years. When I first started, match types were very basic and only provided the broad match option. This has evolved into five different match types – Broad, Phrase, Exact, Broad Match Modifier and the most recent and unofficial type, Phrase Match Modifier (this is not mentioned in Google Support). Additionally, negative keywords are much more important these days and we even develop specific negative keyword lists that we apply to accounts to help eliminate ad spend bleeding on irrelevant searches.  

4 Google Ads have changed dramatically over the last 15 years. Kita laughs at how she once thought Pay Per Clips was related to her field of work. 
Q: What would you say is one of the most important aspects of keywords that advertisers should know about?
A: It is important to always be optimizing and be dynamic. Campaigns can change so much depending on what Google determines to be part of their current policies. It is extremely important to stay up to date with changes in our industry & to always be testing as new tactics are introduced. So much can change in the blink of an eye. Here is a useful page to monitor for new features & announcements related to Google Ads https://support.google.com/google-ads/announcements/9048695?hl=en
With the COVID-19 pandemic impacting many clients, we really had to keep up to date with what was happening in the PPC industry and developed strategies to help our client's businesses adjust and stay ahead. We are please to have been able to assist our clients in qualifying for $7,910.00 COVID19 Credit & $ 54,566.80 USD in Google Grants by working with a Google Certified Partner. 
Interested in working with us? Be sure to Contact Us to get the conversation started.