CHALLENGE:
We were charged with the task of increasing sales leads to a new Calgary commnunity using CPC marketing.
SOLUTION:
We developed and executed a geotargeted marketing campaign catering to searchers in the Calgary area researching real estates.
RESULTS:
Generated an average of 1,500 qualified clicks per month over a 6-month period resulting in the largest traffic source for the website and contributing to a 155% increase in site visitation.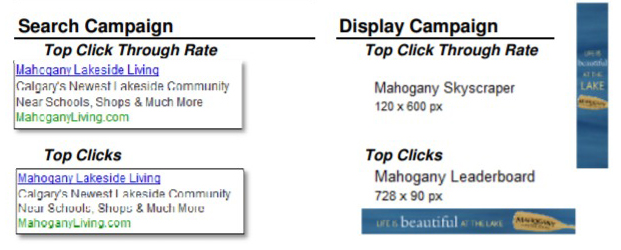 Local Marketing Statistics
67% of online users are driven to search by an offline channel (JupiterResearch). What do potential clients see when they search for you?
When exposed to radio ads online searches for the advertised brands increased by an average of 52%. Your radio audience hears your ad and then searches online for more information.
58% of ALL people in North America would opt-out of all Flyer, Print and Yellow Pages delivery & advertisement if given the choice.(CoreData)
86% of all local searches are online with 90% of these searches resulting in offline activity .(BIA/Kelsey Group)
Failing to consider your online presence when creating and planning marketing initiatives holds more risk than poor campaign performance. If a consumer doesn't feel that a brand's online presence matches the presence they've established offline, they can become less loyal or even abandon the brand completely. Don't lose them half way. Ask us how we've can help you build synergy between your offline & online marketing.